Marathon season is now upon us, as are the injuries, weaknesses, aches and pains so often caused by the demands of training for 26.2 miles.
Yoga, recognised for its potential to loosen tired muscles and strengthen physical weaknesses, can serve as effective rehabilitation, recovery tool, and mechanism to improve the mental toughness of runners, all of which are crucial to completing the physical challenge.
With several world marathons having been and gone, yoga is highly beneficial in aiding physical restoration and minimising the impact caused by covering such a large distance. In light of this, here are 6 yoga poses that support recovery for every runner; from triple medal-holders to those setting out on their very first jog.
DOWNWARD DOG (ADHO MUKHA SVANASANA)


Downward dog is an ideal pose for stretching out tired hamstrings, calves and foot arches. Spending time in this position allows the practitioner to identify imbalances or discomfort, promoting a mindful awareness of the body that is key for long distance runners
HALF PIGEON (ARDHA KAPOTASANA)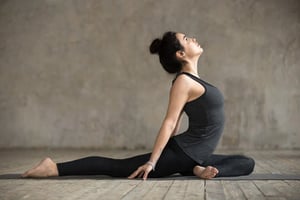 Half Pigeon releases tightness in the hip, hip flexors and glutes. Weak or stiff hips are a frequent cause of injury in runners, such as Runners Knee and iliotibial Band Syndrome. By improving hip flexibility runners limit the likelihood of injury and improve their running efficiency.
LEGS UP THE WALL (VIPARITA KARANI)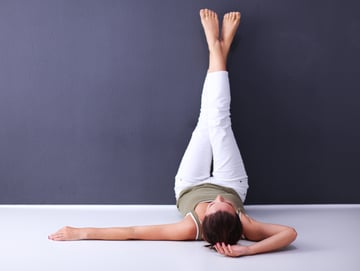 Incorporating Legs Up The Wall into a post-run cool down improves blood circulation throughout the body, draining fluids that collect in your legs during intense exercise. Raising the legs above the torso relieves the symptoms of tired 'heavy' legs while stretching out the hamstrings and glutes.
SIDE LUNGE (SKANDASANA)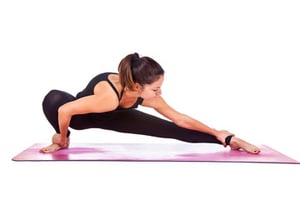 When carried out correctly, Side Lunge creates a deep stretch in the groin, hips and hamstrings. These areas, prone to fracture and inflammation benefit from regular stretching. Variations of this pose allows for differing levels of intensity and improved mobility in the knees and ankles.
LOW LUNGE (ANJANEYASANA)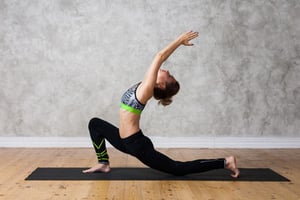 Low Lunge stretches out the muscles most dominant in long distance running: the quads, hips, hamstrings and groin. This movement can strengthen the hip flexors while increasing mobility in the legs.
RECLINED SPINAL TWIST (SUPTA MATSYENDRASANA)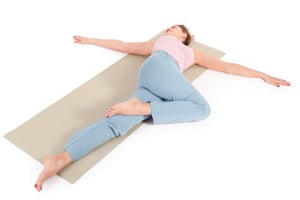 This asana pose stretches and releases the spine. Because of the repetitive strain and impact running can cause, lower back pain is a common ailment among runners. Holding this pose can lengthen the back muscles while opening the chest and loosening the hips.


Are you trained in teaching yoga to athletes?
Learn more about the benefits of being a specialist sports yoga teacher here.